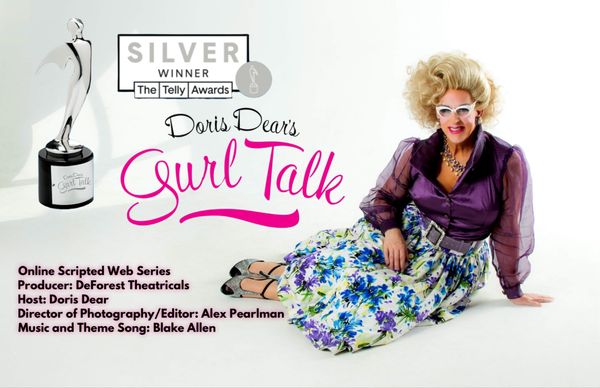 Hi Dears! Welcome back to Doris Dear's Gurl Talk! First off I musty thank everyone for the amazing support. We won a SILVER Telly Award!!! WOW! I am so grateful! Now on to episode 5 of season 2!
I'm your hostess, Doris Dear, otherwise known as 'Americas Perfect Housewife'. Good to see you back in the Rumpus Room! We are continuing our deep dive into Miss Arlen Dahl's book "Always Ask a Man, Arlene Dahl's Key to Femininity". But before we do, here is a little bit of gossip about Miss Dahl. In 1956 Miss Dahl made some films in England for Columbia Pictures, one being "Wicked as They Come".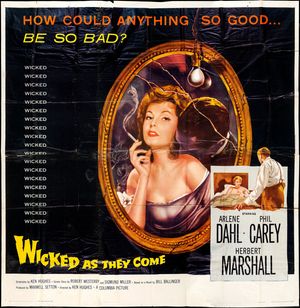 In March 1957 Arlene Dahl filed suit against Columbia for $1,000,000 claiming the advertising for the film was "obscene, degrading and offensive." She said she was humiliated by the use of composite drawings and photographs advertising the film. The case went to trial in May. The judge was unsympathetic during the hearing say he felt the photograph was refined and that Miss Dahl "looked better on film"!!! The case was dismissed that August 
SO SIT BACK AND LET'S GO BACK TO 1965…  
Chapter 16 is one of my favorites!!! It is titled "Instant Sex!"  
This is the era of instant coffee, instant soup, and instant sex. Nobody has time anymore to start from scratch! This seems to be the pattern of today's romance… packaged, precooked, frozen, ready to thaw and serve at a moment's notice!!!  
I gotta start going to a better supermarket!  
What's the hurry? What are we saving time for, if not for the leisurely enjoyment of all the thrilling stages of love- the kind that starts with the basic ingredients and is slowly simmered, stirred and tasted at frequent intervals to savor each additional seasoning – never allowed to come to a boil until all the ingredients have been blended to perfection…  
 Whew… are we still talking about food or … I don't know…  
Continuing… The art of flirtation seems to have perished in our jet age. Before the advent of instant sex beautiful women courted attention by employing certain feminine accessories to entrance, entice, intrigue. The destinies of nations and their leaders have been altered by the drop of a handkerchief, the flutter of a fan. Why not revive these delightful customs of the past to stimulate romance!!! Delightful indeed. Perhaps the most subtle means of flirtation disappeared from our culture with the advent of air conditioning. I'm speaking of THE FAN! It's language is universally understood!  
Now… I never remember Taffy or any of her friends using a fan at parties or any other time! I can only imagine all of her friends fanning away in the Rumpus Room or out at a cocktail lounge fanning away!!! That would create quite a breeze!  
Romance is an art and it is the woman's role to create it!  
There is an entire page of illustrations on how to use your fan! Here let's try a few…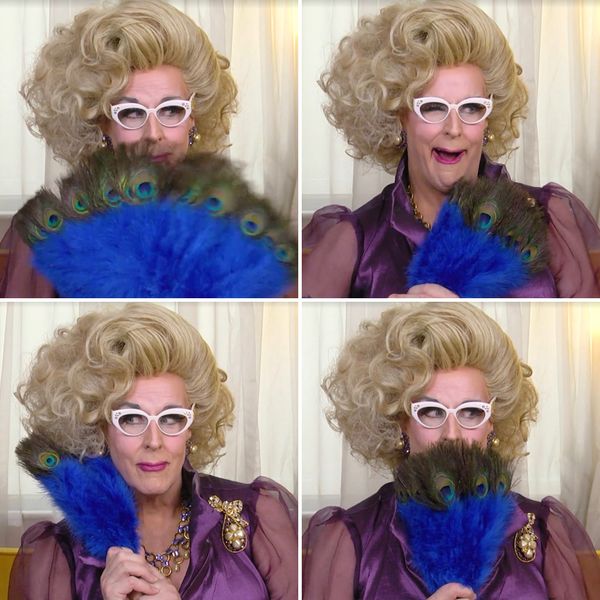 Wow… that's so much work. I think I'll just stick with my voice!!! 
Next week we will finish up reading form Miss Dahl's Book with some wonderful advice from some of her MALE movie star friends! You are going to love these! So mix up a great cocktail, sit back, get comfy and be transported BACK TO 1965 WITH DORIS DEAR AND ARLENE DAHL.
Oh who's that!!!  Jana Robbins!!!!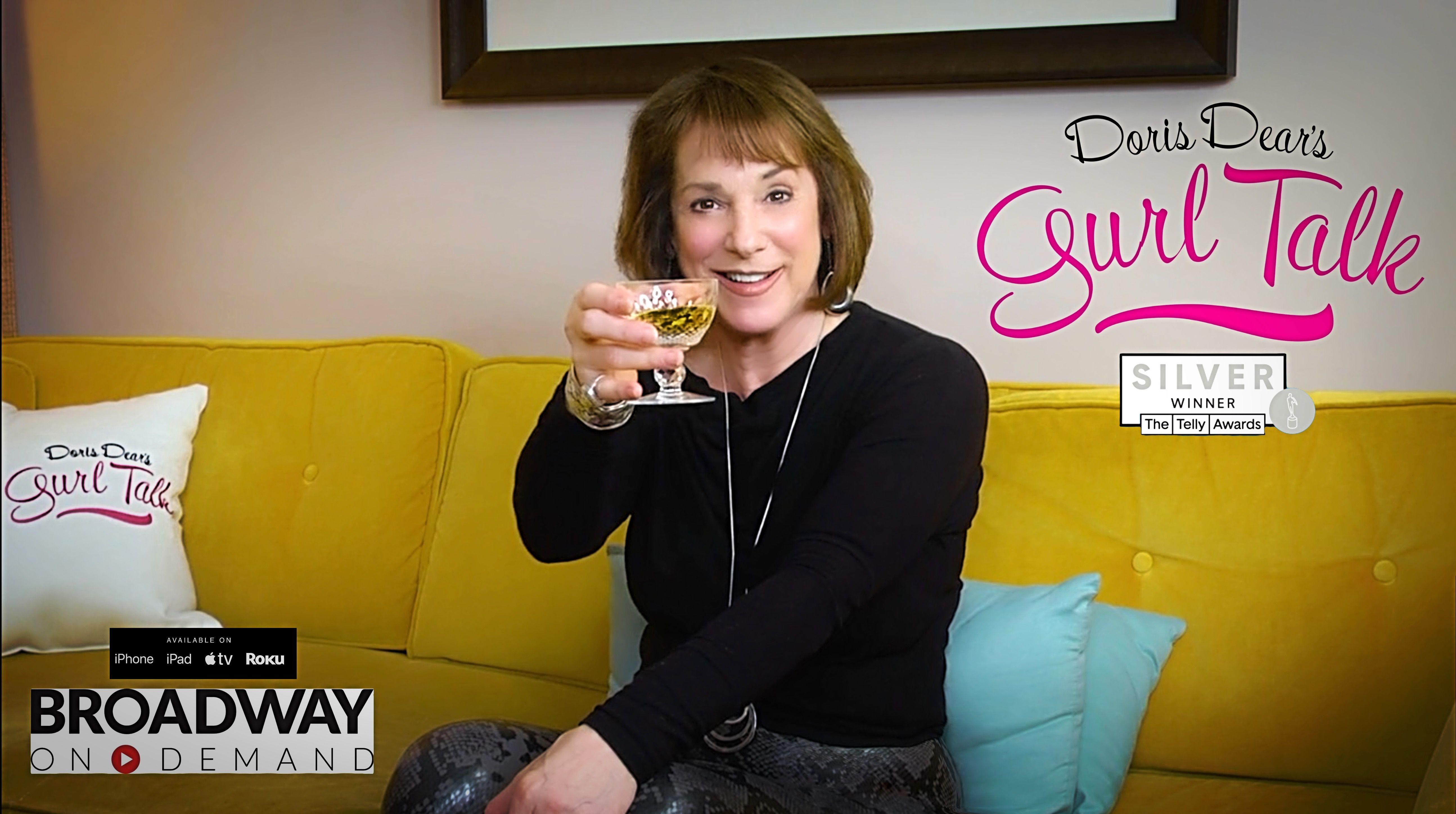 We welcomed Jana Robbins, a Broadway actor as well as a Tony nominated and Olivier and Drama Desk Award winning Broadway and Off-Broadway producer, to the couch and chatted about life upon the stage and producing award winning hits! Her long varied career high notes include "Gypsy" on Broadway and acting as the lead producer of FIDDLER ON THE ROOF in Yiddish along with partner Hal Luftig and directed by Joel Grey! We also chat about our mothers and how much they mean to us and our lives. We of course sipped on a special cocktail I made just for this special interview... "The Doris Dear Rosalind Russell". Of course that sent us immediately into the discussion about Jana's amazing time working with Tyne Daly in the 1989 revival of Gypsy. What a joy to have Jana in the Rumpus Room. This is Broadway history! 
Welcome to the 'Bar Chart'! The place where we make the cocktails, we drink here in the Rumpus Room. 
On today's show we enjoyed a smooth, strong cocktail named after one of the most sophisticated stars in Hollywood history! Continuing our salute to drinks named after Hollywood stars I present A new favorite … The Doris Dear Rosalind Russell.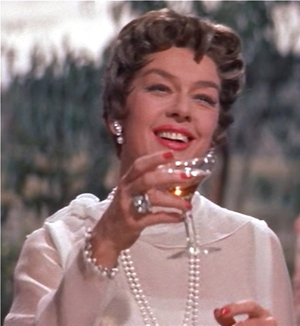 Rosalind Russell was an American actress, who earned four Academy Award nominations for Best Actress and received a special Academy Award in 1972. Rosalind Russell – who had started her career as a fashion model – was one of the leading ladies of stage and screen. She was, both in her personal life and film career, characterized as a sophisticated star. Russell had an extensive career that spanned over 40 years! One of Russel's favorite drinking spots, when in New York, was The Stork Club. The Stork Club, which operated from 1929 to 1965, was one of the most prestigious clubs in the world. A symbol of café society, the wealthy elite, including movie stars, celebrities, showgirls, and aristocrats all mixed in the VIP Cub Room of the club. A famous oasis after the ravages of Prohibition, the Stork Club was the place for celebrities to see and be seen. One of my favorite stories concerning the Stork Club involves Evalyn Walsh McLean losing the Hope Diamond—all 45.52 karats!—at the Stork Club while wearing it out for a night on the town. You'll never believe that it was later found underneath the table! I mean what were her hands doing that her ring came off under a table!? Another favorite is Ernest Hemingway cashing his $100,000 check for film rights to For Whom the Bell Tolls to settle his bill. It was Rosalind's soon to be Danish father-in-law, actor Carl Brisson, who introduced her to an aquavit-based tipple devised by bartender Steve Hannigan at The Stork Club. After that first introduction, Rosalind Russell would commonly order this cocktail, that soon became her signature drink, made with aquavit and Vermouth!  Now if you recall, last season I made a very special Old Fashioned using Aquavit, a wonderful liquor from Denmark that I discovered when I lived in Copenhagen. I'm such a world traveler! It is said that her favorite vermouth to be used by the bartenders at The Stork Club, was Dubonnet Blonde. The actress contributed the Rosalind Russell cocktail on to The Stork Club Bar Book, which was published in 1946. Well mixed (shaken over ice) it delivers a crisp and clean flavor to the palate, with a well-balanced and good bite of caraway. As Ros says in this 1946 book (read Quote) "My Father in law Carl Brisson introduced me to this drink and six months later I married his son!!!"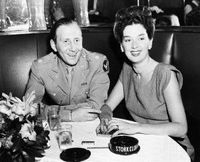 And now: The Doris Dear Rosalind Russell! 
1 ½ oz Danish Aquavit 
1 oz White Vermouth 
Fill a shaker with ice, pour the ingredients over the ice and shake until nice and cold. Pour into a martini glass and enjoy!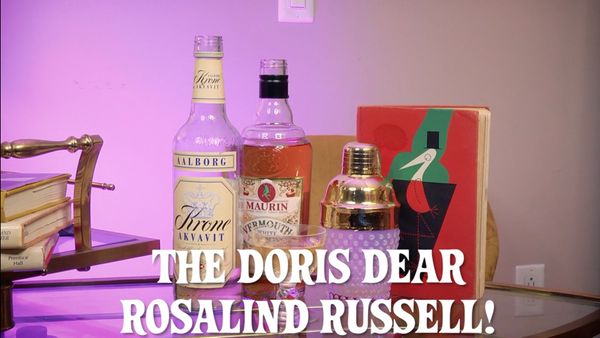 CHEERS! 
Well I hope you enjoyed your stay in the Rumpus Room today.. 
I love when friends drop by and we share some fun ideas and bring some joy to the world around us. Don'tforget… head over to www.dorisdear.com/gurl-talk for all the recipes and hints from today's show I hope you'll drop by the Rumpus Room again for more Doris Dear's Gurl Talk. Stay safe and hugs and love from Doris Dear … and remember… 
A Dress doesn't get you anywhere, it's the life you live in the dress that matters! 
See you soon… CHEERS!