Hi Everyone, Doris Dear, America's Perfect Housewife here! Welcome back to the Rumpus Room! 
You have heard me talk about my parents Taffy and Duke and growing up in the Rumpus Room in our house on Staten Island.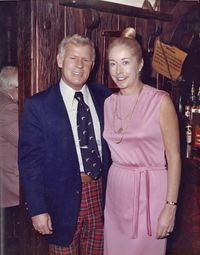 Well… they were really something. Taffy always told me I could have any life I wanted. I asked mom how do I find that someone to make my dreams come true like you found Duke? And of course she pointed me right to her stack of magazines! I asked her… "Better Homes and Gardens is going to get me a man?", and she said "No! Better Homes and Gardens will help you KEEP a man but to find one you look for advice from the HOLLYWOOD MAGAZINES!!!" YEAH…. Because those Hollywood types really know the secret to long happy marriages!!!  Oh yes, like 
The star with the perpetual tan... oh, George Hamilton, remember him. Well Dears he says… "A woman is often like a strip of film, insignificant, until a man puts a light behind her!"  Or the bald one! The King and I, Yul Brenner, here he is on the cover of Colliers magazine. well he says… "The one thing a woman doesn't have to be is logical!" Hmmmmm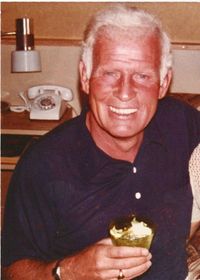 Now Taffy NEVER had problems attracting handsome men! Duke after all, was a star athlete and Taffy was a successful model in her day. She appeared on the runways and in the magazines… a true beauty, tall and statuesque for her day. She was a 5 foot 8 beauty. She was told by her agents to NOT worry about those glaring "defects" like her height, instead turn those defects into assets! Adopt the daring fashions of the day.  Carry yourself like a queen! Well as you can see I follow that bit of advice to the T!!!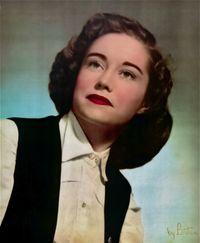 When Taffy married Duke, it really seemed like they had everything. They were 2 of the most beautiful people, the model and the athlete. I loved watching them be in love. Taffy adored Duke. Now you know Taffy gave up her modeling career for Duke. He made all her dreams come true. 
Taffy and Duke truly were in love. They loved together, they drank together and boy did they smoke together! Taffy would rather fight than switch! But remember… it was good for you back then! I would watch her sit next to Duke and listen to every word he said. 
"An interested woman, is interesting!!!" That was Taffy… and that's my mom!
We were visited by the amazing jazz trumpeter and crooner, Benny Benack III. He has been a force here in NYC. He showed up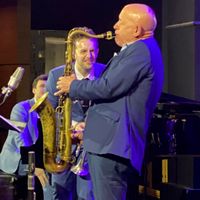 wearing a gorgeous purple pinstripe custom suit! The mans got style! These days singing and playing on the streets on NYC with all the other artists, waiting for the day we can all go back inside the clubs! He talked about his musical family, that has had generations of musicians and teachers in the arts! We talked about his concert I attended at Dizzy's at Lincoln Center where his dad showed up to play with him! His grandfather is famous for writing the song for The Pittsburg Pirates sports team!!! This a guy to watch.. he is bringing fab music to all of us! 
We sat and enjoyed a wonderful cocktail that I thought he would enjoy, and he did! Benny knocked it back!!! The Doris Dear's AQUAVIT OLD FASHIONED! Another favorite drink. It is said that this wonderful simple cocktail, The Old Fashioned, was invented by a bartender in Louisville, Kentucky at the Pendennis Club in 1881. Named the "old fashioned" because people wanted to harken back to simpler drinks from the olden days! Hmmmm … sounds like 2020!! In fact, this is the official cocktail for the city of Louisville and they celebrate the drink each year during the "old fashioned fortnight" celebration. Sounds like Doris needs to visit then!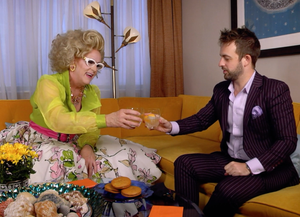 Consulting my bible of cocktail making, The Esquire Drink Book for 1956, it is an easy cocktail to make consisting of lemon, sugar whiskey and bitters. I was lucky enough to live in Denmark, and while I was there, I discovered a wonderful liquor called Aquavit! It is distilled from grain and potato's with caraway or dill seed! And what a surprise to find out that Aquavit is used in an old Fashioned in Denmark! So, here is my recipe for The Doris Dear Aquavit Old Fashioned! 
To a shaker filled with ice add… 
1 ½ oz Aquavit 
1 oz Rye Whiskey 
1 tsp Maple Syrup 
1 dash orange angostura Bitters 
Shake, strain into a glass with a large ice cube garnish with an orange twist! ENJOY! Cheers! 
Well I hope you enjoyed your stay in the Rumpus Room today.. 
I love when friends drop by and we share some fun ideas and bring some joy to the world around us. Don'tforget… head over to www.dorisdear.com/gurl-talk for all the recipes and hints from today's show I hope you'll drop by the Rumpus Room again for more Doris Dear's Gurl Talk. Stay safe and hugs and love from Doris Dear … and remember… A Dress doesn't get you anywhere, it's the life you live in the dress that matters! 
See you soon… CHEERS!
So here is the recipe for my "Doris Dear Aquavit Old Fashioned"!!!