Hi Everyone, Doris Dear, America's Perfect Housewife here! Welcome back to the Rumpus Room!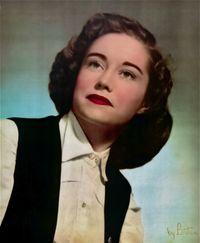 My mom, Taffy, was a true Irish Beauty. Dark hair, bright blue eyes and later in life bright blonde hair! Oh she was a sight to behold on the tennis court. Taffy, well, she was the ultimate glamorous suburban mother and housewife. Always dressed au courant, always knowing just what to do and say. Taffy was PERFECTION!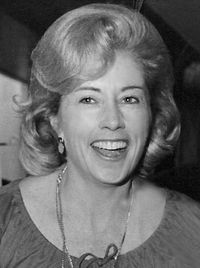 I remember the day she announced she was taking me to the Metropolitan Museum of Art to see the Monet waterlily exhibit and then lunch. Oh my dears, imagine how excited I was. A little girl like me finally seeing the big city! So we put on our most beautiful outfits and hopped into Taffy's fab yellow mustang convertible. Wrapped a silk kerchief on our heads and off to the train, otherwise known as the  "Staten Island Turtle", fastest train in the 5 boroughs!  Hopped on the train that finally got us to the Staten Island ferry, best free ride in town. We chugged across the mighty Hudson while I enjoyed my first NY pretzel and root beer soda! Then, there we were... the big Island of Manhattan. Oh I was so excited! As I took my first steps, mother declared we were taking a subway! Well, this WAS an adventure! So we went underground and took a subway, we arrived at the Metropolitan Museum of Art. Oh I'll never forget walking up those stairs, through those mighty doors. Of course, I dropped my quarter into the donation box at the door and the guard gave me my little button that said I gave! I'm still a giver today!!! and then off to see the Monet Water Lilies! There we stood, staring at those glorious Monet paintings, I had never seen such beautiful paintings and those colors ... lilac and purple… so lovely. Taffy adored those paintings. I mean everything in Taffy's bedroom was LILAC! The ceiling, the walls, the bedspread, the shag carpeting… she even had lilac potpourri! Then it was off to lunch, downstairs at the amazing "Dorotheum" restaurant.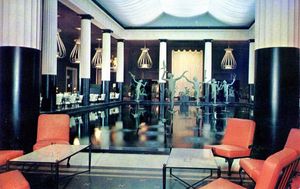 Do you remember the Dorotheum Restaurant? What a glorious place with its oversized Birdcage Chandeliers and reflecting pool with bronze water sprites skipping across.  Oh, a gurl like me never experienced such glamour! Designed by the amazing Dorothy Draper. Taffy said she was ordering the perfect lunch for a blossoming woman in training... a Rock Cornish Hen...! She proceeded to teach me eating etiquette in public;. That was the day, she said, that I was going to learn about being a proper grown up WOMAN! 
That was Taffy… my mom!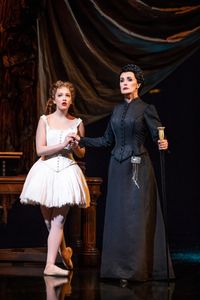 My special guest in todays episode was the Broadway star of "Phantom of the Opera" Maree Johnson, who plays Madame Giry! We spoke about the beginnings of her career in Australia as a swing in "les Miserable" and then playing the lead part, Christina, in "Phantom". Maree also shared the deeply personal story of her entire family contracting Covid and how it affected them. Maree is a joy to sit with and she even brought a special cake known in Australia... The "Lamingtons"! These delicious desserts were cake and chocolate and coconut! It was a perfect treat for or chat! They are truly fab and you can go here to see the recipe that is Maree's favorite! 
While we chatted, we sipped on one of my favorite cocktails. The 'Pimm's Cup'!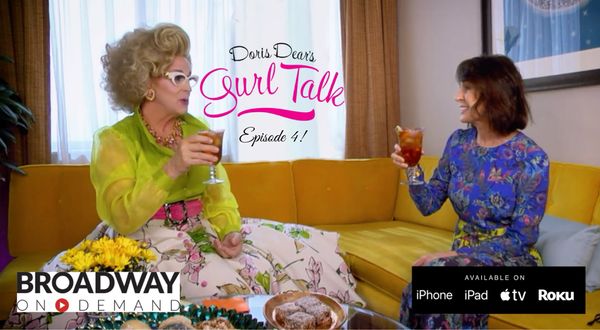 I was a very lucky gal and was invited to the ASCOT RACES last year! What an absolute joy it was seeing all those people dressed in there fancy hats and morning suits. And there I stood as the Queen Mother and the Royal family passed just feet away from me in the Royal Coach! Now… I am sure that the Queen Mother waved at me! I mean how could she not! What was really marvelous was after the races everyone gathers around the bandstand as the band played songs and the huge crowds of people sing along. And with those songs I was introduced to the traditional drink of Wimbledon… Pimm's Cup. What a joyous day it was as I sipped my fruity sweet libation singing along with my Scottish friends and the thousands of people there. James Pimm, the owner of a London oyster bar, invented the drink sometime between 1823 and 1840. The original version featured gin, quinine, and various herbs, and it reportedly aided digestion. The sweet libation is the signature drink of the Wimbledon Tennis Tournament, where the first Pimm's bar opened in 1971, but it is also enjoyed widely across Britain in the summer months. Now, I would look this up in my cocktail bible, The Esquire Drink Book, but this isn't in there! So I had to go on my memories of my day at the races. But enough chatter… lets create the Doris Dear Pimm's Cup! 
To a tall glass full of ice add: 
2 oz Pimms Cup 
3 oz 7up 
Cucumber slice 
Strawberry 
Orange slice 
Lemon slice 
Mint leaves 
stir and garnish with fruit! 
Well I hope you enjoyed your stay in the Rumpus Room today.. 
I love when friends drop by and we share some fun ideas and bring some joy to the world around us. Don'tforget… head over to www.dorisdear.com/gurl-talk for all the recipes and hints from today's show I hope you'll drop by the Rumpus Room again for more Doris Dear's Gurl Talk. Stay safe and hugs and love from Doris Dear … and remember… A Dress doesn't get you anywhere, it's the life you live in the dress that matters! 
See you soon… CHEERS!