Hi Everyone, Doris Dear, America's Perfect Housewife here! Welcome back to the Rumpus Room!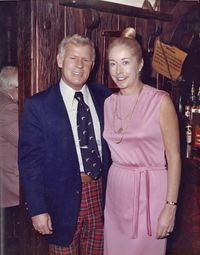 My mom and dad, Taffy and Duke, truly were the classic mid-century modern couple! They SEEMED perfect! They went through "stuff" But they always focused on how much they truly loved each other. I learned from the best! Taffy taught me that to make it in the world you must be a strong independent woman. Because that's what she was. You know, Taffy went to work when I was in the 7th grade. She took a part time job in one of the BIG BANKS . One day she showed up in a wonderful lime green pant suit and matching scarf around her head. The VP of the bank came running down and told her she had to go home immediately and change into something more appropriate for a woman at work and certainly NOT PANTS! Well, Taffy marched out of the bank, noticed a pay phone in front of the bank and with a twinkle in her eye, got on a pay phone and called the local papers. Now who do u think was on the cover of the style section that weekend and don't you know Taffy was back working at that bank the following week wearing that Green pantsuit and matching scarf around her head! That's Taffy! That's my mom.  
"Style is everything, STYLE is what gets u up in the morning! "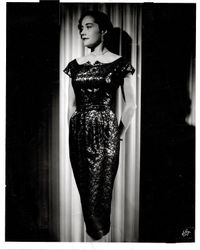 Taffy had so much to say and teach and I wrote it all down in this little book.  You know she gave up her career in modeling for her family. She was proud to raise and take care of her family and never was she embarrassed that she was "Just a Housewife".. She never understood why some thought it was something bad "only" raising a family. … But I kept her notes with me at all times and well, I'm sharing them with you now! … needless to say they are a slightly different view of the world we live in now… 
Taffy was great at so many things… cooking, mother, wife, gardener… but I will say that being a housewife wasn't always easy. You sometimes felt under appreciated. But Duke always made sure that he told her how much he loved her and how important she was to our family…. And to the world! I mean Taffy was a staunch believer that EVERYONE was equal and deserved equal rights no matter what! Taffy was truly loved. As was I… 
There was a knock on the door and lo and behold it's Broadway Diva Karen Mason! Karen sits down on the couch with me and we have a great chat about her long history of Broadway shows and tells some greta backstage stories. Karen is a blast and you will love this conversation as we sip on a favorite retro cocktail...
The Doris Dear Sidecar!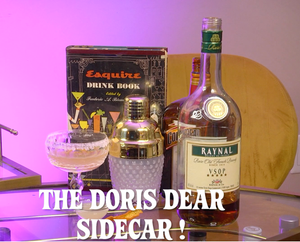 I have to admit… my go to drink in winter is the delicious SIDECAR! I adore this cocktail. I tend to like sweeter drinks and this warms my bones and tickles my taste buds!  
The Ritz Hotel in Paris France claims origin of the drink. The first recipes for the Sidecar appear in a 1922 cocktail book. Of course, it is also contained in my cocktail bible "The Esquire Cocktail Book". It's a rather simple drink of Cognac or brandy, Cointreau or some other triple sec and lemon juice. A sugar rim tops it off and down it goes! I love sitting in front of a fire and sipping this while feasting on a lovely board of meats and cheeses. Yummy! Now on to the drink! 
To a shaker full of ice, add 
1 ½ oz brandy 
¾ oz Cointreau 
¾ oz lemon juice 
Shake vigorously and Strain into a saucer glass with a sugar rim 
Sip this one slowly… you don't want to finish it fast!! 
Well I hope you enjoyed your stay in the Rumpus Room today.. 
As always I love when friends drop by and we share some fun ideas and bring some joy to the world around us. Don't forget… head over to www.dorisdear.com/gurl-talk for all the recipes and hints from today's show.  I hope you'll drop by the Rumpus Room again for more Doris Dear's Gurl Talk. Stay safe and hugs and love from Doris Dear … and remember… A Dress doesn't get you anywhere, it's the life you live in the dress that matters! 
See you soon… CHEERS!