Greetings all and happy Christmas Eve! 
Eve was a big event in our household. Taffy and Duke were lovers of the holidays and Christmas Eve was almost more entertaining than Christmas Day!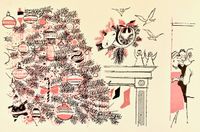 There was lots of preparations the week before. Taffy made sure all the decorations were in place, especially in the Rumpus Room. Taffy loved holly, all green and shiny with red berries. She would make garlands that would hang on the paneled walls and small wreathes for the windows. Lots of candles and fresh pine were scattered on the bar and the smell of cinnamon was everywhere. 
Of course my sister, Nancy, and I were always transported by the pure magic of how the house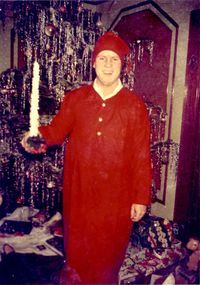 sparkled that night. We would lay under the tree and stare up through the twinkling lights and German tinsel. We would lay there until mom and dad said it was time to put our red and green outfits on and sing carols in front of the tree. Duke loved this tradition. He would wear his red nightshirt and red nightcap and hold a big Christmas candle as we would sing as a family. It still puts a smile on my face when I think of those very merry moments with all of us singing slightly off key! 
Then it was time for all our friends and relatives to arrive. Johnny Mathis would be playing on the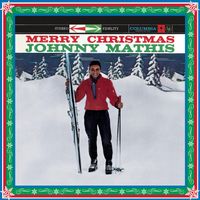 phonograph while Taffy would be warming up her dance moves with me. We would giggle through the entire rousing rendition of Johnny singing "Sleigh Ride". 
There was always plenty of food in the rumpus room as well. A buffet full of jello molds, dips and of course a relish tray since nothing says 'party' like celery and olives! The week before was spent making homemade 'spritz cookies'. We would dye the dough different colors and decorate the cookies with different color sprinkles. Nancy and I always ate too much of the raw dough which was too tasty to ignore. 
People would arrive all dressed up and Nancy and I would sit on the stairs and listen to the clinking of the ice as the manhattans and whiskey sours were poured. Everyone was happy and giggling and celebrating the holidays in full fashion.  
There was always a punch bowl this time of year. Something called a'Tom & Jerry' that was served in the most beautiful bowl and mugs. It was made ahead of time with some sort of batter. I was never allowed to taste it but everyone always seemed very happy wafter a few mug fulls!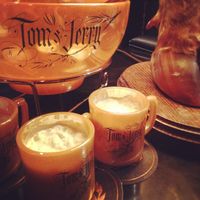 Nancy and I would eventually be called down to the Rumpus room to sing a carol before we headed off to bed dreaming of Santa and his reindeer, but Duke always made sure we were awake enough to hear Santa on the roof! Of course we would leave a few of our spritz cookies out with a big glass of milk for Santa which he always seemed to fully enjoy.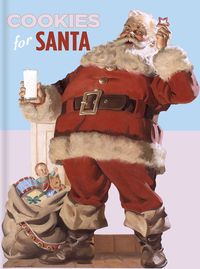 Taffy and Duke always made sure we had the  most amazing Christmas. Even when times were tough, we never would have known. Duke worked hard to make sure we always had everything we could possibly desire and Taffy made sure our home was full of love. Nancy and I were best friends and many a holiday night was spent cuddling together watching "White Christmas" or some other holiday favorite movie on the TV. I cherish each and every moment I had with my family. This holiday season I especially will be embracing the memories of each of them knowing that because of them, I am who I am today.  So lift a glass of milk and grab a cookie and remember all the people in our lives who made us who we are today.  
To you and yours I wish you the happiest of holidays. 
XOXO 
Doris Dear