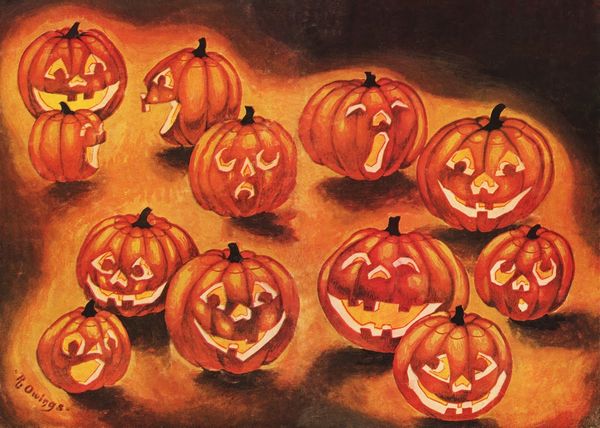 October was always a fun, busy time in the Dear household! The cooler temperatures brought out the sweaters and light coats, as the leaves turned brilliant hues of yellow, gold and orange. Taffy and Duke both loved decorating for the holidays and Halloween was no exception! 
We couldn't wait to rush over to the Richmondtown "Old Home Day". Richmondtown is a authentic original town and farm museum complex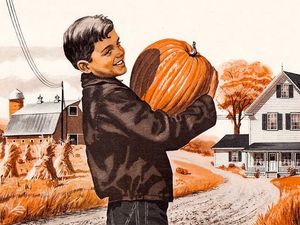 featuring treasures dating back to the 1600's. A wonderful historic site on Staten Island full of colonial buildings manned by locals dressed in period garb. Old Home Day, which Taffy was a committee member of, was always a big highlight of the season. This is where we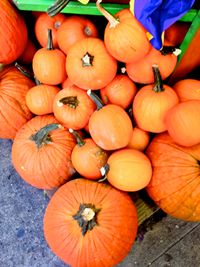 purchased our pumpkins from a large field full of all shapes and sizes as we sipped the fresh pressed apple cider the colonial men would make as you waited. I loved this day, watching women make homemade bees wax candles as we sampled home baked goodies. 
When we arrived back home, it was straight to the kitchen table to start designing and carving our wonderful orange pumpkins. Taffy designed great faces each year and was a master carver back when the only thing we had was a sharp knife and Dukes hacksaw! I remember the year he decided to pull out the electric drill to make the eyes and we all laughed and wondered why we hadn't thought of that before! Of course a candle was placed inside and in the evening we set them out on the front stoop to light the way for goblins and ghouls. We also had lots of cardboard Halloween decorations that Taffy loved to hang up. I especially loved a certain pumpkin that was dressed in a sort of jester like costume. I loved changing his arm and leg positions each day as if he was doing a dance.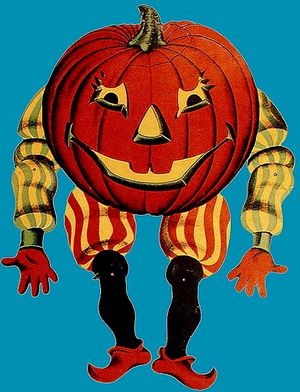 This year,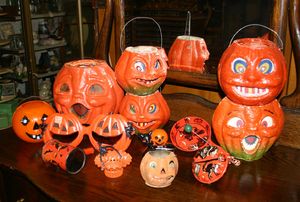 Taffy also bought me my paper mâché pumpkin to collect my sugary goodies. Oh how I loved that container. It still decorates my shelf along with my other máché Halloween collections each year. Taffy would buy an assortment of little Halloween bags to fill with candy for the trick or treaters on Halloween night. How I loved those little bags with the bright orange and black graphics of ghosts,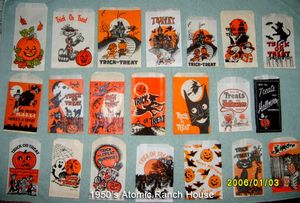 devils and black cats on them. Taffy, Duke and I would fill each bag with precisely the same amount of candy in each, and then fill the large green bowl with them. I remember it like it was yesterday. 
School was out and I was finally old enough to have a "real" Halloween costume. Mom would take me to Whitman's Candy Store in Great Kills Village! I marveled at the Ben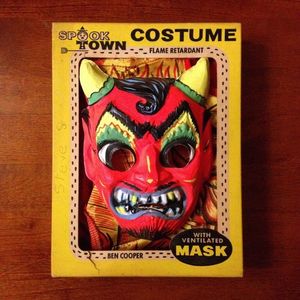 Cooper Costumes in those really cool boxes with the cellophane windows that showed the mask hidden inside. I wanted to be a Devil. Mom said yes and I grabbed it quickly before she could change her mind. When we got home I had to put it on right away. It was one of those fake satin one-piece jumpers with a printed design on the chest and ties in the back to fit all sizes. The mask was frightening. His face was red with an evil grin and horns sticking out of the top of his head. 
As the month continued on, the anticipation of the "that day" would almost make me go crazy. I would read my new "Girls"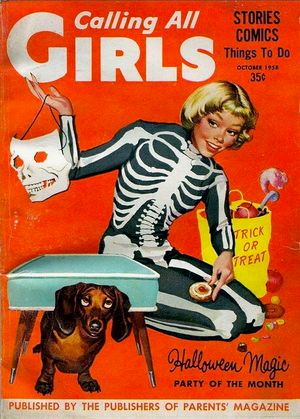 magazine to get some ideas for parties of the season. I couldn't wait to become a devil and collect candy from the neighbors doorways! Some of my friends graduated up to wear the costume of the grown up kids… the "Hobo" outfit. Black top hat, flannel shirt, baggy pants from their father, oversized shoes and an old cigar. Then they burned a cork and rubbed the black all over their faces. A pillowcase would be for the candy and the requisite sock full of flour to fight the evil ones! I remember watching "Meet Me in St Louis" and the scene where the kids all go out for Halloween and make a huge barn fire in the middle of the street! Imagine if they did that now! Then little Margaret O'Brian throws flour in the face of the neighbor and is celebrated as being brave. I dreamed of having that same kind of night with my friends (well, minus the burning furniture!!!).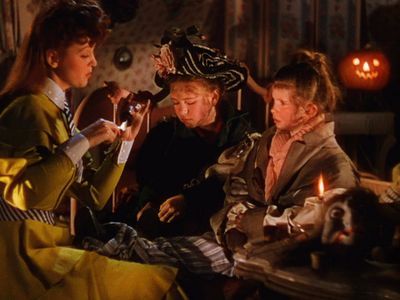 I was so excited to show off my wonderful devil costume to all my friends. It fit perfectly and I loved how when you spoke behind that plastic mask you could hear yourself echo a little bit. It also had a certain smell about it that was comforting for some odd reason. Taffy and Duke took pictures and then it was time to depart. The bell rang and all my friends were ready. Just as I was about to head out the door, Taffy decided it is way too cold out and maked me put a coat on over my costume and a wool hat on my head. UGH! OH NOOOOOOOO! I was so upset. I argued with her, but Taffy always won. With my head hung low and frown under my mask, I went out into the spooky cold night. This Devil Wears a Parka tonight!!!!". The fall leaves were crunchy under my feet and the wind was howling slightly, a perfect spooky night! Despite the coat… which I immediately took off and wrapped around my waist, and the hat which I stuffed into my pumpkin, it was a wonderful Halloween with friends and a pumpkin full of yummy gooey delights. 
I still love to dress up in costumes. I have moved on a bit from the ones in the box, but nothing is more fun than stepping outside my "normal" self and being a Superhero or anything else that fits my fancy! 
So as Halloween month is upon us once again and I adjust my Batgirl mask, I take a deep breath and step out the door. I strut my purple boots down the pavement with my partner and friends at my side. The wind blows through my hair and I think to myself… I bet mom would have told me to wear a parka and a hat! 
Hugs and love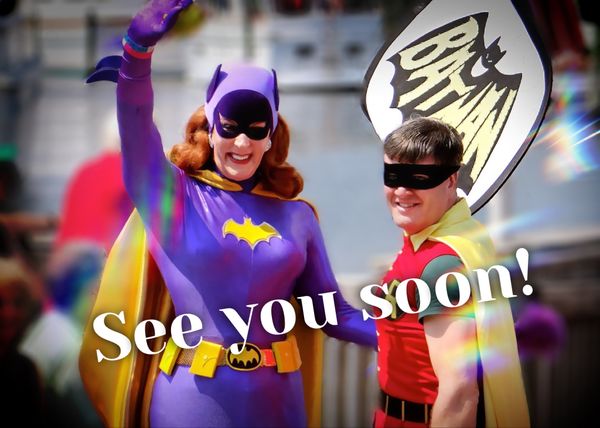 ---