Hi Everyone, Doris Dear, America's Perfect Housewife here! Welcome back to the Rumpus Room! I've just been going through some of my old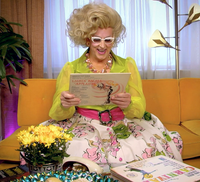 Broadway record albums. Boy, the Rumpus Room was always rocking with these albums when Taffy and Duke had friends over!  
Now today, I am so excited to share with you some super fun food history. You know growing up on Staten Island with my parents Taffy and Duke and my sister Nancy was a barrel of fun! Taffy and Duke really enjoyed life and lived it out loud! Let me tell you… that Rumpus room was swingin' all night on a Saturday evening. All their friends would come over all dressed up and my sister Nancy and I would sneak down the stairs and listen to all the giggling and the laughing and the tinkling of the ice as the Manhattan's and Whiskey sours were poured as they listened to those Broadway record albums. 
Now mom and dad loved going into the city to see shows and go out to eat, and they both were amazing cooks. They loved discovering new dishes in restaurants and then recreating their versions at home. Taffy often said that the way to a man's heart was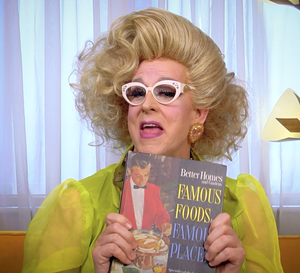 through his stomach… and Duke loved to eat! I mean everything from jello molds to grand buffets, the rumpus room always had good food around and of course there was always that relish tray!!! But boy she loved discovering new food. Later in life, my sister would do the same thing… oh Nancy loved her crock pot! 
Now we must remember that back then there were not all these different ethnic foods on every corner. Even Italian restaurants were exotic in the 60's! But Taffy and Duke loved bringing us to the city to enjoy those wonderful meals in all those fancy eating establishments. When we got home of course mother would start looking for the dishes we ate so she could recreate them. And she would of course go the her 'BIBLE' - Better Homes and Gardens Famous Foods From Famous places!  On of my favs was of course going to The Top of the Fair at the 1964-65 World's Fair! Oh, the fair was so marvy wasn't it. Full of wonder and dreams of the future. Who knew the future would be what 2020 looks like!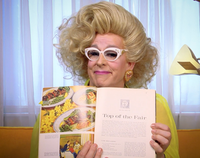 Top of the Fair was glorious. Glass enclosed, suspended high above the fair where you could actually see the NYC skyline! Oh, how I marveled being there. The Chef was Charles Peponakis, who apparently,  was very famous for his 'Chocolate Three Way". Now… I'm not sure if Taffy had any 3 ways in her kitchen, but well, one never knows! LOL… 
In the book Chef Peponakis shares his classic take on Sauerbraten! We actually had that when we ate there, and I thought I was so fancy eating something from another country like that! Now I thought we were getting something like SAURKRAUT! Who knew it was meat and the NATIONAL DISH OF GERMANY!  And … it came with 'Gingersnap Gravy'.. talk about exotic! Oh I remember how good it smelled! 
AND … Well this is a classic example of my sister Nancy's cooking. She took this recipe, added some booze to it, popped it all into a crock pot…and VOILA! A feast for her family! Sooooo good!
My guest was the marvy young man Aaron Kimmel. A graduate of Julliard and fantastic jazz drummer. He is my neighbor and he graciously agreed to come over to the Rumpus Room and chat about his career and touring experiences and how Covid has changed all that. What great guy. Of course we sipped on our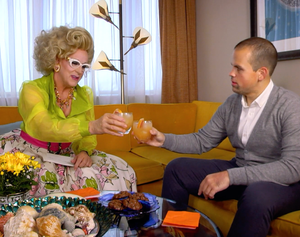 marvelous Doris Dear cocktail of the moment... The Doris Dear Grapefruit Margarita! 
Welcome to the 'Bar Chart'! The place were we make the cocktails we drink here in the Rumpus Room. 
On todays show we enjoyed a refreshing favorite … The Margarita! The margarita is related to a popular Mexican and American drink, the Daisy, margarita is Spanish for "daisy", remade with tequila instead of brandy. It became popular during Prohibition as people drifted over the border for alcohol. 
Now, as always I look to my cocktail Bible, The Esquire Drink Book, and lo and behold… The first known publication of a margarita recipe was in the December 1953 issue of Esquire, with a recipe calling for an ounce of tequila, a dash of triple sec and the juice of half a lime or lemon. 
Now, as always, I like creating my own version of the drinks I love, and I created a special version… The Doris Dear Grapefruit Margarita! This a refreshing take on a classic… so lets get on with it! 
You pour that into your shaker filled with ice 
5 oz Red Grapefruit juice 
4 oz white tequila 
1 ½ oz triple sec 
½ oz simple syrup 
Shake it up and pour into a glass filled with ice. Add a grapefruit slice… and there it is! A yummy refreshing cocktail for those steamy summer evenings! or days if u like! 
Well I hope you enjoyed your stay in the Rumpus Room today.. 
I love when friends drop by and we share some fun ideas and bring some joy to the world around us. Don'tforget… head over to www.dorisdear.com/gurl-talk for all the recipes and hints from today's show I hope you'll drop by the Rumpus Room again for more Doris Dear's Gurl Talk. Stay safe and hugs and love from Doris Dear … and remember… A Dress doesn't get you anywhere, it's the life you live in the dress that matters! 
See you soon… CHEERS!