Well my Dear's, it seems that spring has sprung finally and the sun is shining bright through my windows looking out on the Hudson River. All of my houseplants have started to spring into growth and the basil seeds have been sown in the hydroponics! Technology is simply wonderful isn't it! Those little seeds will grow enough basil for me to make it through yet another long winter... thank god for pesto! 
Things really have changed haven't they? Taffy, my mother, lived for her magazines to show up in the mail box to find out what was new and great. She poured over those pages and got new ideas each month. Now it seems you go to this thing called "Google Search" and the world of information is at your fingertips. It seems though that so much of that information isn't especially accurate. When it comes to food recipes especially things seem wrong! No one has time tested the recipes or spent much time in the kitchen trying it out.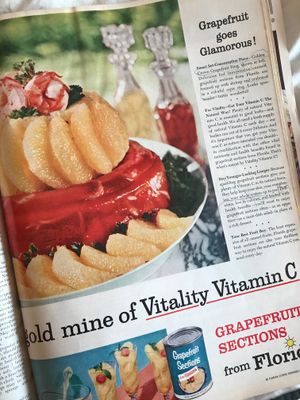 I spent years on TV preparing food and I wrote all my own recipes. They were tested over and over and made sure they were correct by me and my staff. It seems that this just isn't the case much anymore. What would taffy have done without her "Better Homes and Gardens"? She would not have had that great grapefruit jello mold recipe to share with us all. A yummy concoction of grapefruit slices, crab, shrimp and red jello! Oh my DEAR'S, it was delish... and healthy too (or so they said).
Of course this time of year is time for my time tested and yummy RED VELVET CAKE! This is one of my most popular recipes. I love this cake and it makes a great presentation if you spend just a little bit of time decorating this frosty beauty. Traditionally, red velvet cake is iced with a French-style butter roux icing (also called ermine icing), which is very light and fluffy, but time-consuming to prepare. Cream cheese frosting has become the most popular these days. 
Interested in making your own? Try my recipe published here:
Doris Dear's favorite Red Velvet Cake
Happy baking DEARS!
Love
Doris Dear