What a wonderful start of summer I had. Just like Taffy and Duke, I motored out to the island and enjoyed ten fun filled, sun soaked days at the beach, chasing waves and digging up sand crabs just like we did growing up. 
Taffy and Duke loved the beach. They looked forward to escaping to the sandy shores of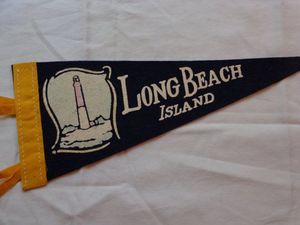 Long Beach Island each summer. We would load up the car and motor down the Garden State Parkway in our new Mustang convertible with the top down and Taffy in a big hat and colorful scarf. 
Inevitably we would get there just as our stomachs told us it was time for lunch. We would pull into "Wida's" and order up our first lobster of the season!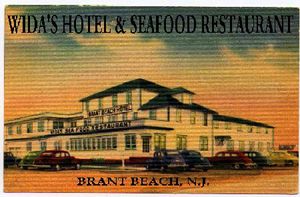 Oh how I was fascinated by those huge claws and dripping butter. Duke would crack those shells and Taffy would show me how a lady removes the meat! She was so delicate and managed to get every last bit out. Of course Taffy and Duke sipped a cold frothy beer and I enjoyed my sugary Shirley Temple.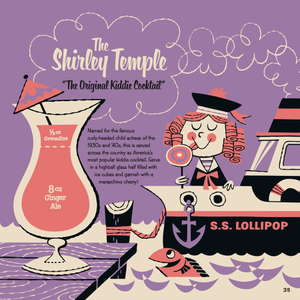 Then it was back into the car to arrive at our rented house on the beach. Walls covered in Knotty Pine with the smell of salt and the grind of sand under our feet. How I loved these vacations! 
Mornings always started with Duke making us bacon and eggs with freshly made donuts he would get each morning at "Marvel's Supermarket".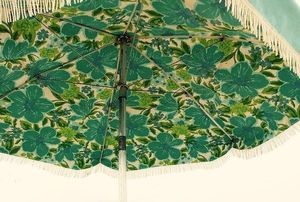 That was followed by a set up on the beach with large colorful umbrellas with long fringe, blankets, towels, baby oil and lots of cigarettes!
I of course had my latest chapter of "The Happy Hollisters"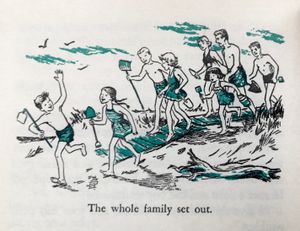 with me ready to read. How I loved the adventures of this happy family. This years pick was "The Happy Hollisters at Sea Gull Beach". 
Mom and I would collect shells and she would teach me how to make necklaces and beaded ankle bracelets to give to the lifeguards sitting watch over us! Always the fashion plates, Taffy would hit the beach in only the latest fashions. This summer it was a "Catalina Sun Struck" polka dot bikini and Duke in his short shorts.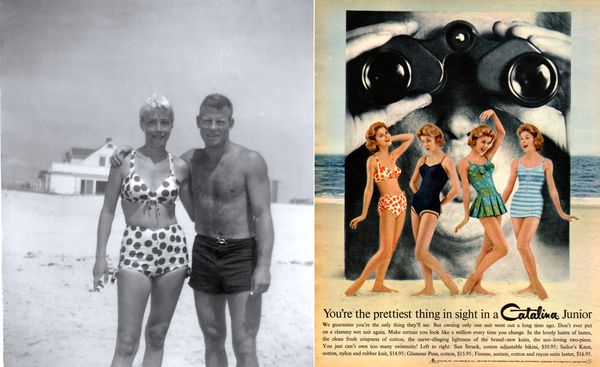 They would always turn heads! What a truly beautiful couple. Taffy had her hair cut in a pixie style that summer (all the rage) and bleached white! She looked like something right out of vogue. Mom and Dad would set up the cribbage board and play for hours laughing and telling stories with friends that would drop by the blankets. It always seemed everyone waited for Taffy and Duke to arrive. 
Early evenings would be a something I really looked forward to. We would hop in the car and drive over to Bay Village to walk around the shops and of course drop by to see the "Lucy Evelyn Schooner".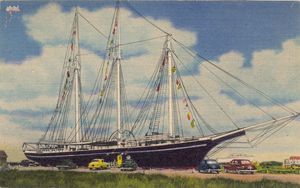 It seemed so big to me back then. It was a shipwreck of sorts with a small museum inside. Sometimes we would get there at the right time and hear the "Wharf Rats" perform. Of course near by was the "Country Kettle Fudge" shop where Taffy would get a large helping of dark gooey chocolate fudge and a small piece of vanilla fudge for me.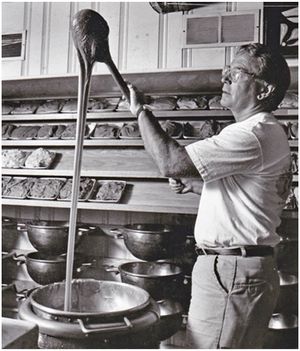 That shop smelled so good with all that boiling sugar! A quick stop at the trampolines where we would all laugh bouncing up and down like monkeys and a quick wave at the Robot in front of "Hartman Go-Carts", then homeward ho!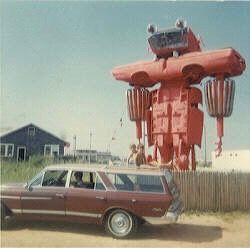 Taffy always brought our own sheets and they were crisp and comforting that first night. Waves crashing on the shore lulled me to sleep each night, box fans humming in the background, as Taffy and Duke would welcome friends in and serve up whiskey sours and cigarettes! 
It always made me a little sad leaving. But our last night was always spent at a "fancy" dinner at "Howard's", sitting in large oak chairs eating French fried lobster tails with drawn butter. Even with my sunburnt lip, it never stopped me from chowing down! 

I treasure my summers with Taffy and Duke and now I still carry that same cribbage board with me to the beach and move my little wooden pegs around just like Taffy and Duke taught me! 
Have a wonderful fab summer!
---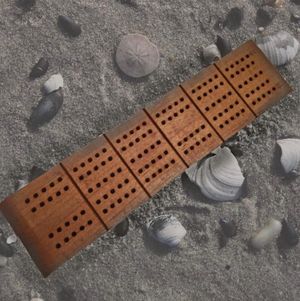 SaveSave